Can you imagine going for a walk with your dog and, instead of having a great time you end up losing him?
Well, I can.
I don't know if it's fear of losing my dog forever or just a simple lack of trust, or maybe both. I'm always worrying if I can let my dog run around freely in the forest, at the beach, I'm even worried to let her out in the garden where there's a fence around it.
She's not a bad dog and has never run away from me, we're still working on her training, but she's just a very active pup. To her, everything is so interesting and everyone is a friend, and that is the reason why I'm worried.
There have been several times when she runs away very quickly as she loves running, but in the end, she always comes back. I know that she will come back, but I still don't trust her. Why is that? I don't know.
Throughout the years as she is getting older, my trust in her got better and I don't stress about it too much. But I have learned my lessons when Vivi was younger.
When you're not sure about your dog coming back to you whenever you're out and about, just trust your gut and admit to yourself that your dog is not ready to walk without a least as he might not come back. It gets very sad when you see other dogs playing around or just walking beside their owner without a leash, but don't worry about it. Every dog is different, I can't stress this enough.
It takes time and practice, but the important thing is to take care of your dog's safety. There are so many ways we can protect our dogs and GPS collars are one of them. It's also important to chip your dog, so if he's found they can read it and contact you.
As we started having trust issues with our pup, we tried to figure out a solution. What would help us to be more confident when training our dog and letting her off-leash when it's safe, so one of the best ideas was to get a dog GPS collar/device for her.
This topic is important because due to the upcoming Christmas and New Year's Eve there will be a lot of fireworks and you all know that this is the time of the year when dogs get lost more often because of fear and anxiety.
1. What is a GPS collar and how it works?
These collars work the same as any GPS device.
GPS collars use the same GPS system that we use to find the right location, for example, while driving. The tracker is a battery-powered device that gets information from multiple satellites to track your dog's location.
The important thing is that they transmit the information from the collar through a radio signal to your phone or other devices you're using to track your dog. The GPS unit shows that information on your MAP screen and you can see the exact location of your dog.
2. FitBark – Our choice
We made our decision based on the functionality of the device. There's a lot of high-quality devices that offer not only a GPS function but also a health tracker.
Therefore, we decided and bought FitBark. It's a great device and we're happy about our decision.
FitBark is one of the highest rated dog health platform on amazon.com, amazon.ca, app store, google play and chewy.
1. Install the FitBark Mobile App
2. Attach the FitBark to Your Dog's Collar
3. Track Health & Location 24/7
In case of emergency, you can quickly locate your dog anywhere in the U.S. via the embedded Verizon LTE cellular service. You receive 1-minute updates until you reunite with your dog.
One of the greatest functions is that you can track minute-by-minute activity, sleep quality, distance traveled, calories burned, and overall health and behavior. You can also set fitness goals based on the breed, age, and weight of peers.
We're usually checking our traveled distance or activity level what she has reached throughout the day, that's how we know if she has achieved the required amount of activity per day. Fitbark usually sends notifications if she hasn't reached her daily goals.
With this GPS dog collar you can also monitor your dog's mobility, anxiety level and skin condition.
Cons: The location-tracking feature is only available for the FitBark GPS and works only in the United States
You can check out Fitbark detailed review HERE.
3. Top 3 GPS dog collars approved by the experts and veterinarians
This device tracks real-time location using AT&T nationwide network and Google maps. They quickly locate your pet in 3,000 miles away.
You can be notified when your pet leaves a designated safe place by email, text, or app.
They also have a health and fitness monitor that indicates potential problems, and weekly wellness reports. There is even an option to send a 30-day Email REPORT to your vet.
Also offers activity tracking by setting goals based on breed, age, and weight. You can see how many calories they have burnt, traveled distance, and time when doggo was active.
1. Purchase a whistle tracker;
2. Activate your whistle 360º plan via whistle app;
3. Attach to the collar and you are set.
Cons: Lag for the initial notification when pet is out of safe zone and no web interface. A monthly or yearly subscription plan is required.
Fi uses three constellations of satellites to maximize the tracking speed and accuracy of the Fi Collar. GPS accuracy can get as accurate as 7ft radius in the open sky.
Fi is the first tracking collar to use the LTE-M cellular network to communicate GPS information. LTE-M is a new technology for low power, long distances communications. LTE-M signal reaches about 30% farther than 3G/4G/5G/LTE networks.
The most important factor in a dog's recovery is the speed at which you are notified of the escape. Fi uses proprietary algorithms to detect when your dog escapes from your backyard.
The Fi Collar is 'smart' and will dynamically connect to Wi-Fi Access Points or local Bluetooth beacons, such as your phone or the Fi Charging base, to save energy and maximize battery life.
Cons: Only works with included collar and requires a base station.
You can simply attach this GPS dog collar to your pet's collar and track their location and activity on your phone in real-time, without any subscriptions.
They offer your own personal vet who is available 24/7, although you have to pay a Findster Care membership for it. The vet will be at hand to answer your every question right on your Findster App.
They also notify you about possible health-related issues, through continuous monitoring and analysis of your pet's behavior and your local context.
It's small, lightweight, and sturdy, so it works for both dogs and cats.
Cons: Doesn't work indoors.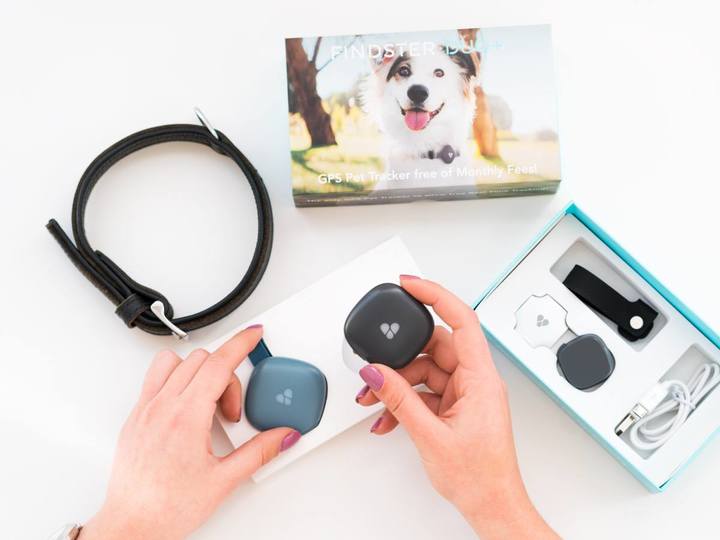 4. Conclusion
I highly recommend any type of GPS that can help you to track down your doggo as we never know what might happen. Purchasing Fitbark was one of the best decisions I have made as I feel a lot more at ease knowing that no matter what happens I will be able to find Vivi. 
In case you are from Europe or any other part of the world let us know as we would be happy to give an insight into different dog trackers that can be used outside the USA.